Army Wrestling Update - ESU Open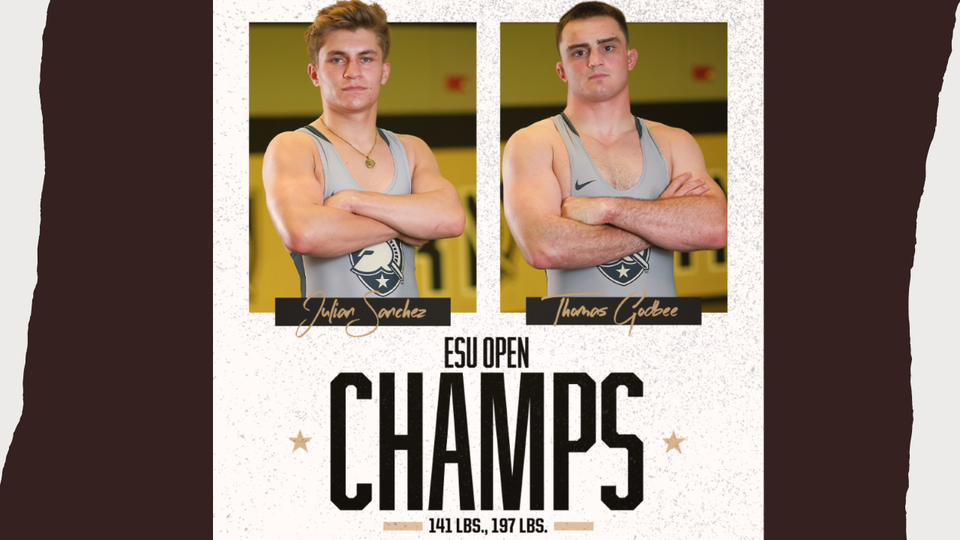 West Point, NY | November 8, 2021
Hey Black Knight Nation,
Well after a long preseason the Black Knights hit the mats at the East Stroudsburg Open and came back with some good results.
The full brackets are here:  FLOARENA
Overall,  it was good to get guys in singlets and on the mat again.  The event did run into some time constraints so not all wrestle backs were competed, but our main goal was to get guys to compete.
Generally speaking, I think we showed that we are well on our way to our goal of being the toughest and best conditioned team in the nation.  Most of our matches featured us wrestling hard late in the match, and trying to score points in the 3rd period. The ones that didn't typically ended poorly for us.  We still have a lot to work on, but it was good to see progress coming off a long layoff.
I'm going to go through and highlight one performance per weight.
0 125- We did not enter an athlete here.  Our 125lbers will make their debut at Journeymen.
o 133- We have good depth here.  Plebe Rich Treanor wound up 3rd.  I'm especially pleased with his last match- it is worth a watch.  He was down late and found a way to get to his offense and won with a late comeback.
o 141 How many tourneys at any level wind up with guys from the same team placing 1-4? Heck, 1-6 if you count our prepStars. Julian Sanchez finished on top and has been very consistent this preseason. Obviously, the margin here is paper thin and we look forward to many more battles from this group.
o 149 Matt Williams had a nice bounceback performance on the backside after a tough loss. It was good to see him piling up some Ws and scoring a bunch of points.
o 157 Both entries really impressed here, so I couldn't pick just one. Dillon Sheehy placed 2nd and looked good throughout the event. Nate Lukez is going to make me bring a defibrillator to the mat when I coach him- he had a great last second win against a Drexel opponent who beat the #9 ranked wrestler in the nation on Saturday.
o 165 Dalton Harkins is ready for prime time straight out of the gate. He got 3rd, dropping a tight match to an NCAA qualifier in the semis. He knows he belongs now.  That confidence will help propel him forward.
0 174 Dom Falcone got beat up in his first bout by a ranked kid, but I watched him go out and dominate in the wrestle backs. Good first event for him.
o 184 Danny Lawrence's pin in the semis against the Navy kid was a highlight of the event. He had to come from behind in two matches to get to the finals, and it was encouraging to see him do so.
o 197 a few weeks ago Tom Godbee told me he never thought he would win a college match, he was getting beat up in the room by JT so much. Well, he won 4 and finished as champ in his first college wrestling tournament. I guess that's pretty good.
o 285 Kade Carlson had a nice debut. He really grinded out a great win in the quarters and bounced back with a pin in the wrestlebacks as well
Like I said, those are just a few highlights. You can see resiliency was a theme as a lot of guys won the first match after a loss which is something I have always stressed. Character shows up in the wrestlebacks.
As the new guy, it was great being out there representing West Point for the first time and seeing the incredible support from the institution. In addition to the athletes and myself, Coach Dellavecchia, Trainer Caroline Brennan, Strength Coach Peter Kenn and OR Colonel Mike Rhyn all made their West Point Wrestling debuts.
We head to compete at Journeymen on Sunday and hope to see some of you there. The event features 18 teams and will be held at the Spooky Nook in Manheim, PA.
Thanks for reading and remember, it's a Great Day to be Black Knight
Coach Scott Green