EIWA Team by Team Season Preview Part Two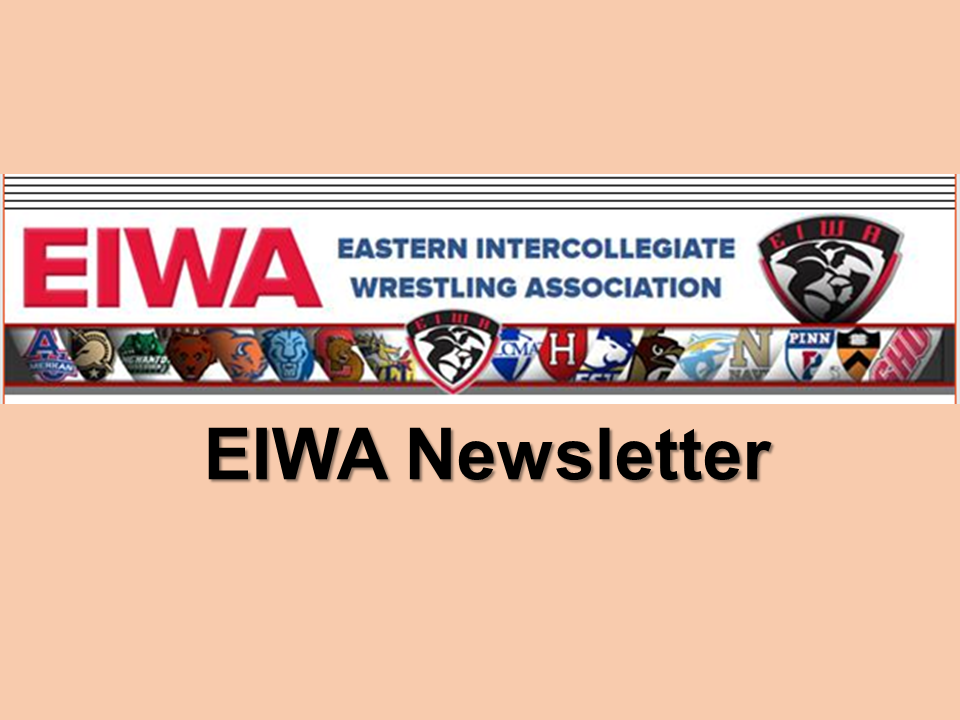 Story by Austin Sommer
EIWA Sports Information Dir.
Columbia University (#30)
Projected Line-Up
125 Nick Babin (#21)
133 Angelo Rini (#19)
141 Mason Clarke or Kai Owen
149 Richard Fedalen (#20)
157 David Berkovich or Jaden Le
165 Joshua Ogunsanya (#15)
174 Lennox Wolak (#15)
184 Aaron Ayzerov
197 Jack Wehmeyer
HWT Billy McChesney or Nolan Neves
Overview
The Lions finished tied for 4th in the EIWA last season with a whopping eight place finishers, and six NCAA qualifiers. Babin, Rini, Ogunsanya, and Wolak will return. Kazimir was a former EIWA champ and will be done competing due to graduation. Cesar Alvan will take an Olympic redshirt. This team will have many bright spots in their line-up. If the few young newcomers can prove that they can compete at a high level, this team will be challenging for a top three finish at conference come March.
New Faces
Columbia recently hired Jamie Franco as an assistant coach. Jamie competed for Hofstra until 2014, where he was a three-time NCAA qualifier. He was recently at his alma mater coaching for the past seven seasons as associate head coach. Expect an immediate impact from him on and off the mat.
Mason Clarke or Kai Owen will be the next man up at the 141lbs weight class. Clarke is a senior who has sat behind Rini and 133lbs and Kazimir at 141lbs. These two weights have been some of the best for Columbia recently, so his experience in the room will be a factor in the line-up. Owen is a Wyoming Prep graduate, holding multiple All-American honors from his high school days. The sophomore is 10-6 in college thus far. Both wrestlers will have big shoes to fill in order to replace the former EIWA champ in Kazimir.
Rich Fedalen is a sophomore expected to fill in at 149lbs. Being a member of the U20 Greco team, he is as dangerous from the neutral position as they come. He was also a U20 Pan Am silver medalist, with a longer rap sheet of Greco success. He boasts an 11-4 record wrestling in opens thus far, which is enough to a earn a pre-season national ranking.
Expect to see either Jaden Le or David Berkovich at 157lbs. Berkovich has seen mat time in duals a few years back at 157lbs, and wrestled in opens at 165lbs. He's a senior looking to fill this void as NCAA Qualifier Cesar Alvan takes an Olympic redshirt. Jaden Le is the other option. He has yet to see any dual meet action but carries a 15-9 record into the season. The California native had 732 takedowns in his high school career – which is an incredible amount of takedowns.
Key Dates
Nov. 17 – Michigan (#9) visits Columbia in an early season test.
Nov. 19 – Ohio State (#7) takes on Columbia two days after Michigan in a wild home opening weekend.
Dec. 8 & 10 – The Lions travel to square off against Iowa (#8) and Northern Iowa (#20) in hostile environments.
See entire schedule here: https://intermatwrestle.com/rankings.html/ncaa-di-r5/
Cornell University (#2)
Projected Line-Up
125 Brett Ungar (#10) or Greg Diakomihalis
133 Vito Arujau (#1)
141 Vince Cornella (#14)
149 Cole Handlovic or Colton Yapoujian
157 Meyer Shapiro
165 Julian Ramirez (#7)
174 Chris Foca (#2)
184 Jonathan Loew (#8)
197 Jacob Cardenas (#6)
HWT Lewis Fernandez (#11) or Ashton Davis
Overview
The Big Red are poised to not only repeat as EIWA champions, but to repeat earning a trophy at NCAAs. They cleaned house at EIWAs with six champions, one runner up, and a 7th place finisher. They were down two expected starters at the time, making it even more impressive. Returning NCAA champion, Vito Arujau is slated to wrestle this season. It was speculated that he may use an Olympic redshirt to prepare for the 2024 Olympic games. This was discussed at length more recently after he won a world title in September. Speaking of world champs, Meyer Shapiro will be a freshman phenom with incredibly high expectations after he won a gold medal at the U20 world championships this past summer. This team is loaded with talent and will be in the mix for a top three finish at NCAAs, even after losing four-time champion Yianni Diakomihalis to graduation. The schedule Cornell put together this year is a very tough one – but they love the challenge of proving they belong in the trophy hunt conversation.
New Faces
Meyer Shapiro was briefly mentioned above. He is one of the rare new faces in the line-up. Being a true freshman, and having no collegiate action, he does not have credentials to be ranked. This will change shortly once the season begins, as he will be an immediate title contender. If you follow wrestling, you've most likely already heard about Shapiro.
Ashton Davis will most likely see some mat time at heavyweight. The true freshman will step in for Fernandez as needed. Fernandez has been battling injuries the past few seasons, so there may be speculation he could be on a "pitch count," potentially. Davis was a three-time state champion in Tennessee, but a multiple time Fargo All-American. He will be ready to step in when needed.
Key Dates
Jan. 5 – Taking on Ohio State (#7) on the road.
Jan. 7 – Virginia Tech (#4) visits Cornell to round out the first weekend of the new year.
Jan. 28 – Missouri (#3) visits Cornell in a top-3 battle.
Feb. 17 – Cornell travels to NC State (#6) in a late season match-up.
Find the entire schedule here: https://cornellbigred.com/sports/wrestling/schedule
Drexel University
Projected Line-Up
125 Gabe Giampietro
133 Kyle Waterman (#27)
141 Jordan Soriano
149 Luke Nichter (#29)
157 Tyler Williams
165 Cody Walsh or Jasiah Queen (#34 on 2023 Big Board)
174 Mickey O'Malley (#16)
184 Justin Griffith
197 Ibrahim Ameer
HWT Santino Morina
Overview
The Dragons are coming off of a 10th place finish at EIWAs at the conclusion of last season. This is the first season, in what seems to be a decade, where we will not see Evan Barczak in the line-up. Nichter and O'Malley are the only wrestlers with NCAA Championship appearances. Waterman has been on the EIWA podium in the past, as has Williams at 157lbs. Drexel's young talent will look to shine this year. O'Malley has 4 NCAA Tournament appearances and finished in the top -12 last year. Will this be the year Coach Azevedo earns his first All-American as the head coach at Drexel?
New Faces
Expect Gabe Giampietro to man the 125lbs class. He was .500 last year in his redshirt season. Being undersized, he took a few lumps. Expect a stronger wrestler to put up similar results to his high school success – where he was a four-time Delaware state champion and Beast of the East runner-up.
Jasiah Queen will see some time in the line-up at 165lbs. He will be a true freshman coming off a fantastic high school season, which included a runner up finish at the New Jersey state championships and Beast of the East tournament. He was a top-35 overall recruit in last year's Matscouts Senior Big Board.
Another overall Big Board prospect will man the 184lbs weight class. The 73rd ranked pound-for-pound recruit, Justin Griffith, was a three-time Delaware state champ and medalist at the Beast of the East. He was crowned champion of The Escape the Rock tournament. He will replace Brian Bonino, who finished in the top-12 last year as a graduate student.
Lastly, Ibrahim Ameer comes to the Dragons as a JUCO national runner-up last season. The former Cloud CC wrestler is expected to make an immediate impact after proving he can compete at the national level. The jump to the Division 1 level will come easier in comparison to last year's high school wrestlers.
Key Dates
Nov. 19 – The Keystone Classic at University of Pennsylvania.
Dec. 9 – Wisconsin (#25) comes to visit the Dragons for a dual.
Jan. 21 – Stanford will travel to Drexel for a dual. It includes somewhat of homecoming for previous Princeton coach, Chris Ayres.
Find the entire schedule here: https://drexeldragons.com/sports/wrestling/schedule
Franklin & Marshall College
Projected Line-Up
125 Mason Leiphart
133 Gio Diaz or Aidan O'Shea
141 Pat Phillips
149 Josh Hillard or Bryce Kresho
157 Luke Bender or Nick Alvarez
165 Dom Wheatley or Noah Bash
174 Noah Fox or RJ Moore
184 James Conway
197 John Crawford (#30)
HWT Chase Thompson
Overview
The Diplomats return two place finishers from EIWA's a season ago. Mason Leiphart earned 8th at 125lbs place while James Conway earned 7th at 184lbs. F&M returns many starters with multiple years of experience while introducing some new blood into their line-up. Leiphart led the entire NCAA with tech falls last season, expect more of the same from him this season. Crawford began his career as low as 165lbs and has filled into 197lbs nicely. He is the lone ranked wrestler at the moment thanks to some quality wins last season. The Dips will be wrestling their historical 100th season this year.
New Faces
Pat Phillips is in a new weight class this season. He saw success at 133lbs the past few years. Bulking up to 141lbs may do him some good to avoid a hard cut. His abilities from the top position will make him a podium threat at EIWAs. Do not be shocked to find him in the national rankings this year, potentially earning a trip to NCAAs.
Luke Bender comes from Delaware, where he earned two state titles. He was also an NHSCA Senior National champion. He will be in a battle for the 157lbs spot. We will see him in the mix to be a starter in the middle weights.
Dom Wheatly is a Nazareth, PA native. He is another freshman looking to earn the starting spot in the middle weights. The two-time state place finisher had an impressive high school career and will try to keep the momentum rolling at the 165lbs weight class.
For the first time since 2016, F&M will have a heavy weight not named "Pelusi" rounding out the line-up. Both Antonio and Vincenzo graduated with multiple NCAA appearances between them. Chase Thompson will have some large shoes to fill – pun intended. The big man from Florida has placed at Fargo and is ready to step in.
Key Dates
Nov. 4 – Southeast Open will kick off their season.
Dec. 29-30 – Midlands is arguably the toughest in-season tournament. The Dips could see some place-winners here.
Jan. 5 – The F&M Open attracts many talented wrestlers, including high school studs and red shirts.
Find the entire schedule here: https://godiplomats.com/sports/wrestling/schedule
Harvard University
Projected Line-Up
125 Diego Sotelo (#26)
133 Coleman Nogle or Jameson Garcia
141 Michael Jaffe* or Jaden Pepe or Dante Frinzi
149 Jack Crook or Kenny Herrmann
157 Joe Cangro or Cael Berg or Jimmy Harrington
165 Joshua Kim (#26)* or Evan Gleason
174 Phil Conigliaro (#12)* or Luke Rada
184 Leo Tarantino* or Alex Whitworth
197 Max Agresti
HWT Jeff Crooks
Overview
The Crimson return three NCAA qualifiers from a season ago. Phil Conigliaro has made multiple trips to the NCAA Championships, just falling short of All-American status each time. He was new to the 174lbs weight class last year – so expect improvement this year with a full season under his belt after moving up from 165lbs. Diego Sotelo and Joshua Kim are the other returning qualifiers. Coach Jay Weiss is entering his 30th season as head coach of the team – which is currently one of the longest tenures in NCAA wrestling. Expect to see some new faces sprinkled into this line-up as well. Note: expect to see upper classmen like Jaffe, Conigliaro, Kim, and Tarantino wrestle in the second semester only. The first semester line-up will vary because of this.
New Faces
At 133lbs, we will see a new face in either Coleman Nogle or Jameson Garcia. Garcia is an Illinois native with multiple state medals. Nogle comes from St. Joe's Prep in Maryland, where he had a standout high school career. His solid 194th overall ranking is very respectable, while Garcia's ranking was 101st. With both wrestlers being true freshmen, expect this to be a season-long battle to claim the starting spot.
141lbs freshman, Jaden Pepe, may see some action. His career was sound enough for a 146th overall senior recruit, as he was a Pennsylvania state medalist on numerous occasions. Expect Jaffee to man this spot once he returns or the second half of the season.
Max Agresti was the 102nd ranked pound-for-pound senior in the class of 2023 Matscout rankings. He had a decorated high school career, topping it off with a Beast of the East title. Look for him to improve as the year goes on at the 197lbs weight class.
Key Dates
Nov. 19 – Keystone Classic, hosted at the University of Penn.
Dec. 1-2 – Cliff Keen Invitational in Las Vegas will be a good early season test with some of the top wrestlers in the nation.
Dec. 29-30 – The Midlands is back and is as competitive as ever. A medal here puts you in the driver's seat for a high-ranking heading into the second semester.
Find the entire schedule here: https://gocrimson.com/sports/wrestling/schedule?path=wrestling
Hofstra University
Projected Line-Up
125 Dylan Ryder or Dylan Acevedo-Switzer
133 Chase Liardi or Joe Sparacio or Ryan Arbeit
141 Justin Hoyle or Alex Turley or Cameron Ice
149 Noah Tapia or Dylan Zenion
157 Jurius Clark, Joe McGinty, Frank Volpe, Eric Shindel or Mike Leandrou
165 Joe Russo, Jake Slotnick, Greyson Harris, Matt Rogers or one of 157-lbers.
174 Ross McFarland or Matt Waddell
184 Will Conlon or Ericson Velasquez
197 Nik Miller or Gavin Proffitt
HWT Keaton Kluever or Danny Church or Adrian Sans
Overview
The Pride have a laundry list of potential starters at multiple weights. Hofstra typically takes their time in solidifying a line-up, which is not all that rare this day in age. Giving multiple guys a chance on the mat will only help improve depth at each weight thanks to the experienced mat time they receive. Hoyle has seen the EIWA podium multiple times and looks ready to make the next step to the NCAA tournament. Expect great results from McFarland, coming off a great redshirt season last year.
New Faces
Former NCAA qualifier for the Pride, Charles Small, is now officially on staff as an assistant. His experience and ability to be a training partner will be beneficial to the upper weights.
Codi Russell is new to staff this year as well. He was a competitor at Appalachian State, where he was a four-time NCAA qualifier. He will be a key piece in the room for the lightweights, replacing long-time assistant Jamie Franco.
An old, new face in Dylan Ryder is back with the program after last competing with The Pride in 2021. He was an EIWA placer in 2020, where the bracket was absolutely loaded with talent. He's back and ready to go while being a leader heading into his sixth year of eligibility.
Another name worth mentioning is at heavyweight. Keaton Kluever comes from Minnesota. Entering his sixth year as a college athlete, look to him to step up as a leader. He has a 43-33 record, including redshirt seasons. Being in the same room and weight class as the one and only Gable Steveson may pay dividends in the long run.
There are a lot of new faces in the potential line-up. In the interest of time, it may make sense to touch on who Hofstra lost this season. Last season's NCAA Qualifiers Jacob Ferreira (184lbs) and Trey Rogers (197lbs) are out of eligibility. Long time heavy-weight, Zachary Knighton-Ward, was a multiple time NCAA qualifier as well – exhausting his eligibility last season too. Hofstra will have an interesting year, as the final line-up could see up to seven or eight fresh faces from a season ago. We may need to give this team some time to develop into its full potential.
Key Dates
Nov. 19 – Ohio State (#7) visits Hofstra, where OSU's Tom Ryan began his coaching career.
Dec. 1-2 – The Las Vegas Invite is one of the toughest tournaments during the NCAA season.
Dec. 10 – Hofstra will travel to Penn State (#1) for a dual.
Jan. 7 – NC State (#6) will take on Hofstra in another tough home dual.
Find the entire schedule here: https://gohofstra.com/sports/wrestling/schedule/2023-24
The EIWA will be publishing a weekly e-newsletter whenever there is breaking news relevant to college wrestling from one or more of its 17 member schools. Be sure to sign up (opt-in) for the newsletter HERE to receive more newsletters like this one!
You may cancel at any time!