Go Green's Notes from Post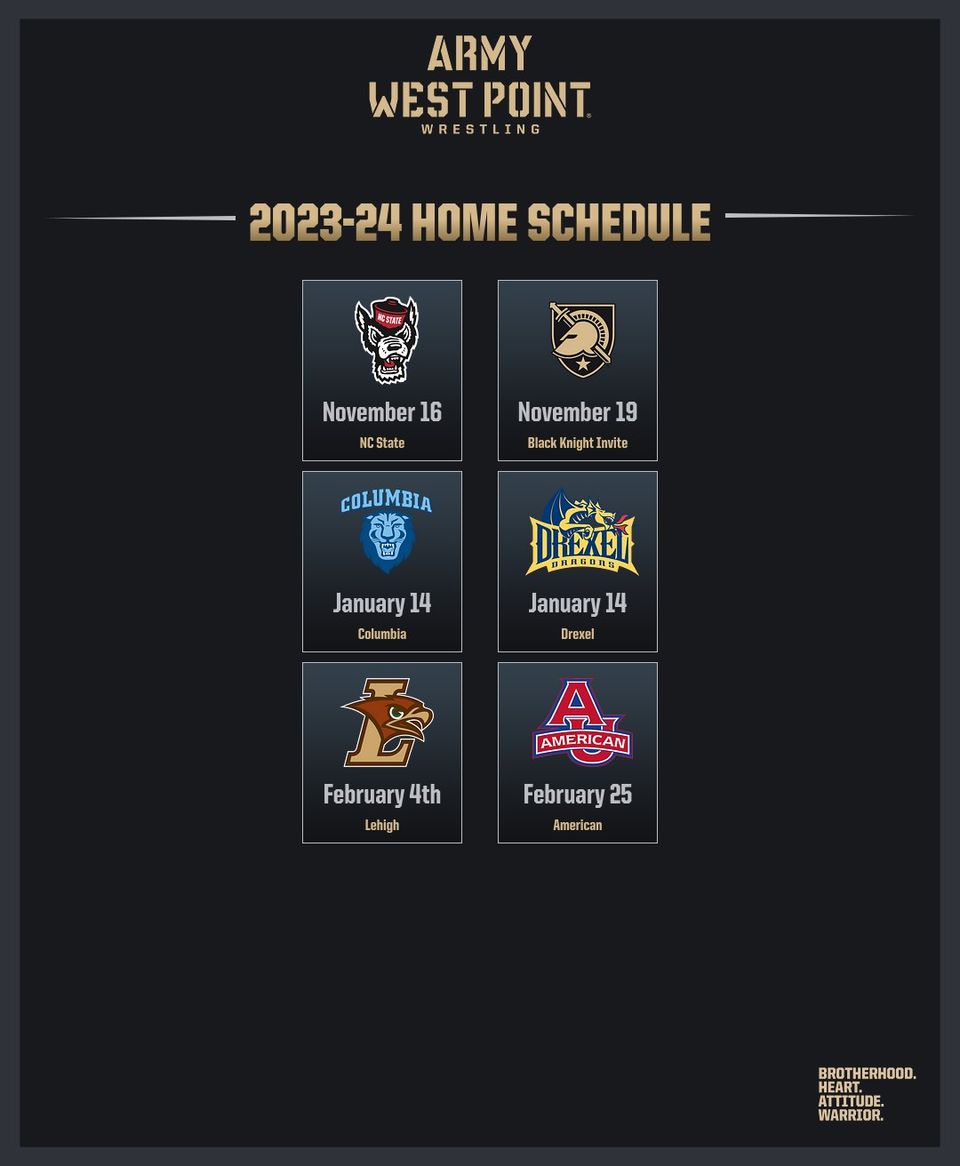 Hey Guys,
Lots of news for you recently. So, I wanted to take the time to reach out and be sure you are up to date.
Recruiting Front
Anytime you guys see a home football game, you can be assured that we are working!  This past weekend was a great example as we were able to showcase West Point to 11 prospective athletes and their families.  Happy to report that three of those athletes made commitments on the trip- all HS juniors.  This gives us a great head start on our 2025 class.  Big credit to Coach Overhiser for traversing the country early this fall.  I plan to be in the Cleveland and Chicago areas over the next few weeks and Coach Ward is making the journey to the Southeast to chat with some prospects from Tennessee and Georgia.
We are putting the finishing touches on our 2024 class, and 2025 is already off and running.
Schedule Drop
It has arrived.  If you haven't seen it- here is the link.  We are excited to get our guys tested early and often.
Wrestling Announces 2023-24 Slate - Army West Point (goarmywestpoint.com)
Army Insiders
We are dedicated to providing a deep dive into the day-to-day operations of Army Wrestling and the WPWC through our Insiders Blog.
Become a member today and check out the first two posts from Head Coach Kevin Ward and RTC Athlete Vayle-rae Baker.
Army Wrestling Insiders (army-wrestling-insiders.ghost.io)
Golf Tourney
We are pumped up to see many of you in just a couple weeks.  There are still some sponsorships available for the weekend.
2023 Golf Scramble - West Point Wrestling Club
Season Tickets
This is HUGE!  For the first time, we are selling season tickets.  This is an opportunity to show everyone that West Point is a wrestling school.  We have set an ambitious goal of selling 1000 season tickets in the first year.  We can get there with your help.
Army Online Ticket Office | Online Ticket Office | Event/Item List for "Wrestling" (evenue.net)
Thanks for reading, we appreciate your support.
Go Army!