Army-Navy Tailgate * Update *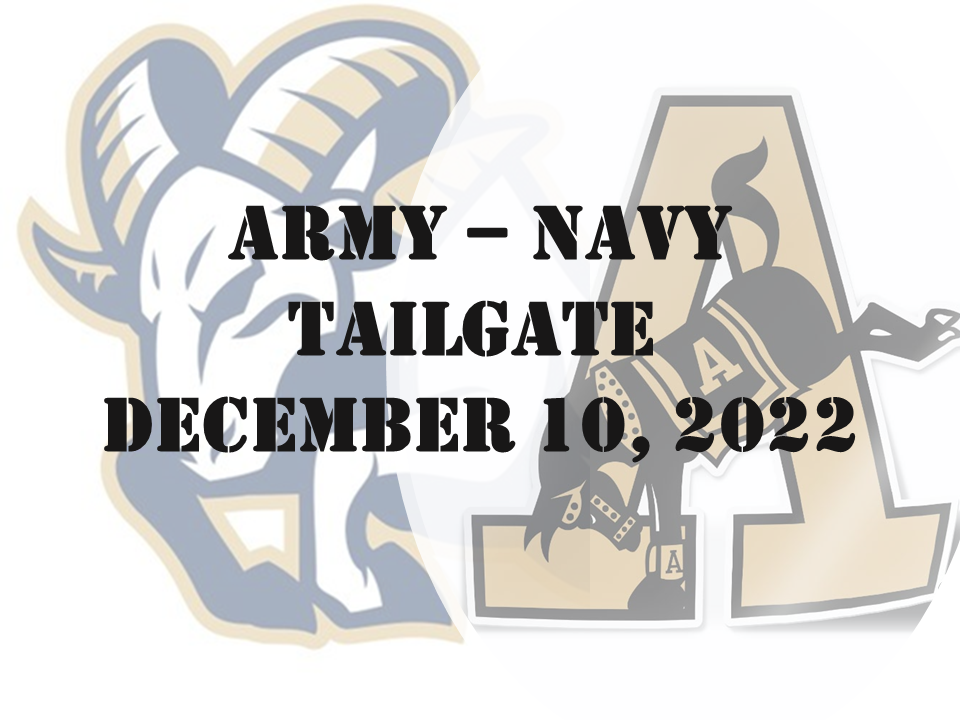 This is THE BEST tailgate at the stadium and supports two incredible causes – the WPWC and the Johnny Mac Foundation.  The WPWC will have our own station but a ticket to the tailgate gets you access to everything.
Tommy Hendrix '05 (VP of WPWC) has spearheaded our partnership with Johnny Mac and has created this incredible opportunity.  Just read the details below to see for yourself.  How can you not have a good time at this tailgate?!?!  It's important for us to show support for Johnny Mac Foundation for allowing us to be part of their larger tailgate, so if you plan to go to the game, this is a great opportunity to enjoy an amazing tailgate beforehand
The tailgate includes +30 individual stations, two bands, dedicated bathrooms, and a ton of food and beverage options.  Here is a summary list of the various stations:
Mimosas & Oysters
Irish Whiskey & Coffee
Craft Beer
Brats
Hot Coco & Schnapps
Breakfast Sausage
Ice Luge Shots
Bloody Marys
Chili
Pasta
Burgers
Tequila
Burritos
Cigars & Whiskey
BBQ
Old Fashions & Ukrainian Mules
The WPWC station will be the wing fest — we have over 1,200 buffalo wings on order for the event.  Tickets for the event are secured by making a donation of +$100 to  Johnny Mac.  So far the organization has raised +$425,000 from this event alone with a target of $750k (last year the event raised $1M!).
For those attending the tailgate, wrist bands will be available the night before at either the Philadelphia Marriott Old City Hotel (One Dock St.) or at the pre-event happy hour at The Olde Bar (125 Walnut St.) in downtown Philly.
Finding us the day of the event should be fairly easy — the tailgate is in LOT H right across from the Xfinity Center.  Our station is on the northwest corner of the lot.  Look for the Army Wrestling Club flag flying above the large "Decisive Point" tent.
Timeline:
// 9DEC22 //
5:00-6:30pm // Pre-match social sponsored by Army Wrestling Parents @ Misconduct Tavern (3131 Walnut Street - within wallking distacne from The Palestra)
7:00-9:00pm // Army vs. UPENN @ The Palestra (223 S 33rd St.)
9:00pm-??? // Reception/Pre-Tailgate Happy Hour @ Olde Bar (125 Walnut St.)
// 10DEC22//
10:00am-1:00pm // Tailgate (Lot H)
3:00-7:00pm // Army-Navy
7:00pm-??? // After-hours Tailgate
Donation Link:
https://give.johnnymac.org/campaign/2022-army-navy-tailgate-for-johnny-mac/c425670
Share the tailgate info far and wide so Army West Point Wrestling fans will rule the event.
Anyone with questions or wishing to support the tailgate should contact Tommy Hendrix at tommy@westpointwrestlingclub.org.