Army Wrestling Update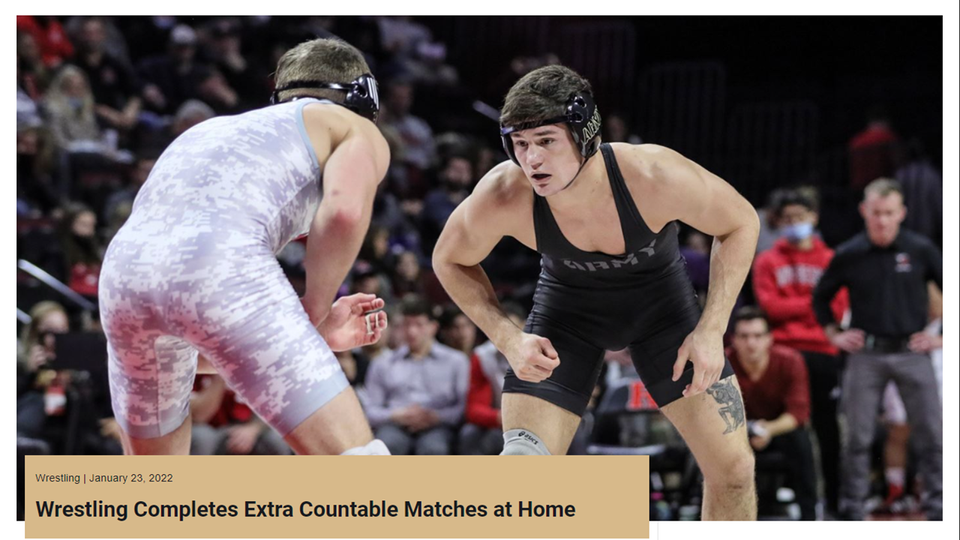 West Point, NY | January 27, 2022
Hey Guys!
So we got a little creative this past weekend and designed an event that helped get us some countable matches to make up for some of the cancelations we have experienced. It was great to compete at home and we appreciate the partnership for American and Franklin and Marshall.
As a coach you always remember your first home event at a new place, and I look forward to many more experiences at Christl Arena. I see big things happening there over the next few years and can't wait for you guys to all be a part of it as well.
Here's a recap of the event of you haven't seen it
Wrestling Completes Extra Countable Matches at Home - Army West Point (goarmywestpoint.com)
Army Strong performances from Sahm at 184 and Dalton at 165. I like the way our guys wrestled and I'm confident that we are the most battle tested team in the nation. Lessons learned from those scraps are starting to show up in competition, a trend we hope will continue Saturday against a tough EIWA foe at Bucknell. Hope to see some of you there.
If you are planning on supporting America's Team in Ithaca for the EIWAs - I am sharing a recent email we got regarding tickets and protocols. See below
Cornell Athletic Tickets - 2022 EIWA Championship All-Session Package (universitytickets.com)
If you have questions you can reach out to me, or contact them directly
We are thrilled to be entering the stretch run and thank you guys for your continued support.
Coach Scott Green