Army Wrestling Update - Bob Quade Cyclone Open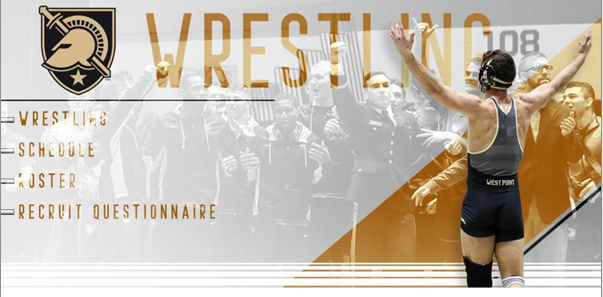 West Point, NY | December 5, 2021
America's Team was busy again this weekend and I'm thrilled to report another successful weekend on the mat.
When I decided to look at opportunities to return to college coaching, one of the things that attracted me to West Point was the roster size. I wanted to be in a program that valued everyone on the team top to bottom. No one in the country has better depth than we do. This weekend was another opportunity to prove this at the Cyclone Open at Centenary.
We came away with four champions.
At 141 Cole Wyman won some close battles to finish on top. It has been inspiring to see Cole work his way back from injury to get on the mat. He got a nice reward for that effort this weekend.
157 Kenny Kiser got the W. His development since August is impressive - the consummate "gamer" on match day.
174 Dom Falcone was dominant- wrestling with a high motor in all his bouts.
184 Danny Lawrence collected 3 pins to finish on top.
Full brackets here- FLOARENA (flowrestling.org)
The fact that a couple of those guys are plebes and progressing like they are bodes well for the future. It's great to have them engaged in the program and working hard to earn future mat time at higher level. It's what makes America's Team great.
I've got news for you guys too....if you check out those brackets you will see some guys up the hill are doing pretty well too.
It's a great time to be a Black Knight wrestling fan.
We have a good week of work ahead of us as we prepare to take on Rutgers on Friday. We thank you all for your kind words of support that we receive weekly and hope to see some of you at the RAC, or at the football game on Saturday.
I will be on the road this week recruiting and I'm really looking forward to spreading the word about all the great things that are going on with America's Team.
Coach Scott Green
[ED Note] Other notable finishes:
Champion: 125 - Ethan Berginc (USMAPS); 149 - Trae McDaniel (USMAPS)
2nd Place: 149 - Zach Keal; 165 - Joe Metz | 133 - Raymond "RayLo" Lopez (USMAPS); 141 - Shane Perclay (USMAPS)
3rd Place: 285 - Kade Carlson | 125 - Charlie Farmer (USMAPS); 133 - Nain Vasquez (USMAPS)
4th Place: 125 - Jake Staud; 197 - Tom Godbee