EIWA Wrestler of the Week - P.J. Ogunsayna, Sr. (149) Army West Point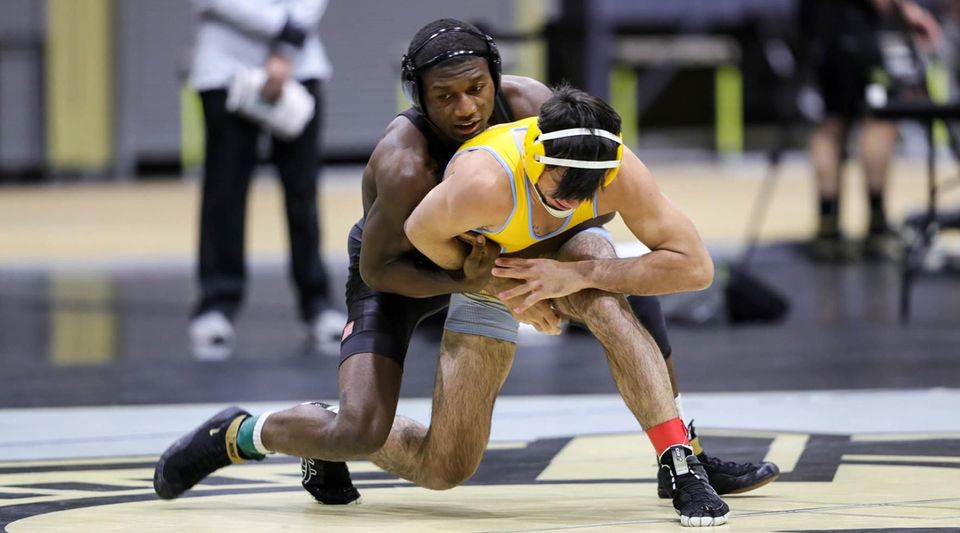 Reprinted with permission: Eastern Intercollegiate Wrestling Association [Apologies for the late publish, but we were awaiting permission to reprint]
No. 22 P.J. Ogunsanya went 2-0 in Army's dual meets vs. Iowa State on Sat., Nov. 27 and Iowa on Sun., Nov. 28.
On Saturday he scored a 4-3 Dec. over Iowa State's No. 10 Jarrett Degen (2020 First Team All-American) and followed up the victory on Sunday with an 11-3 Major Dec. over Cobe Siebrecht at Iowa!
After the Iowa match he stated, " It was great getting a win for Army and a unique experience that I will never forget. I treated my match just like any other match and wrestled free and hard. I didn't force any moves and took what my opponent gave me. I think the most memorable part of the match was hearing the crowd go dead silent after taking the guy down and putting him on his back. Although I got the win, I will continue to keep improving myself and my brothers so that we are ready to make a statement once the conference and NCAAs arrive."
Match notes - Army West Point
vs. Iowa State and Iowa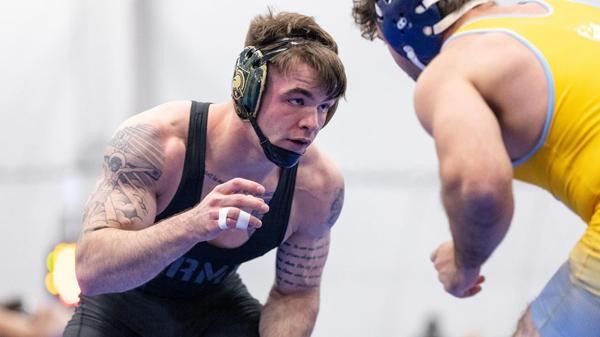 Army's Head Coach Kevin Ward gives his thoughts following
the team's Mid-West trip to Iowa State and No. 1 Iowa.
Kevin, you have wrestled Penn State, Iowa State and Iowa in a span of 9 days. What are your philosophy and goals when setting such a tough schedule?
Coach Ward: "In 2019 we did not have the opportunity to wrestle in the NCAA Championships. Then, last season we had a short season and not really an adequate amount of time to get ready for the NCAAs. We did not wrestle a lot of really tough matches that would have prepared us much better for the high level of competition we see at NCAA's. I wanted to set a really tough schedule during the regular season so we were used to having a lot of tough matches one after another. That is what our guys need to be prepared for what we will see at the NCAAs! Its why I wanted to set a tough schedule, we need to wrestle the top guys on a weekly basis."
How did the last minute addition of the dual meet with Iowa happen?
Coach Ward: "It was as much a surprise to us as it was to the entire wrestling community! We had just finished up a workout on Friday in preparation for the Iowa State match and I received a call from Coach Brands. He explained that Oregon State was not going to be able to wrestle and he wanted us to wrestle them. It only took a few minutes for the coaches to know we wanted to do it! We asked all of the guys on the team what they thought, and of course, the were "all-in" for it. It took 10 minutes to make sure all the logistics would work out and it at that point, I called Tom Brands back and said we would wrestle them. Just like that it was a done deal!"
What was your wrestlers' mind-set going into these two tough matches?
Coach Ward: "The guys were all excited! They thought it was a great opportunity for them to test themselves against the number one ranked team. They attend Army West Point; the type of guys we get look forward to challenges, they aren't afraid of competition and look forward to a tough test!"
P.J. Ogunsanya is this week's EIWA Wrestler of the Week. How would you rate his performance and what is his role with the team?
Coach Ward: "PJ wrestled great and with a high level of energy and intensity. He has come so far in his wrestling since being a back-up as a freshman. The guy he beat against Iowa State was an All-American two years ago and was ranked no. 10 in the country. PJ scored late in the match to beat Degen 4-3. It was a big win for him. It showed how badly he wants to win."
"All college coaches think highly of their top guys and think they are special, but PJ really is a very special young man. He is so motivated and puts so much effort into everything he does. He works extremely hard and has a lot of enthusiasm. He leads by example and by experience. I can honestly tell the other guys to just do the things PJ does and they will improve and be successful."
What are your final takeaways from your Mid-West trip to Iowa?
Coach Ward: "It was a great opportunity for our guys to wrestle two great opponents, and to wrestle in front of the Iowa fans. That is the kind of experience that will help them be ready for NCAAs. The real test will be how practice goes today. If they are motivated to get better and work harder to reach the same level as the guys we just wrestled then I know it was the kind of experience they needed. If they are down because we lost two matches then it will not have been the experience I was hoping for. Knowing these guys and knowing they are at Army West Point, I think it will motivate them to work harder and get better!"

**NEW** EIWA Newsletter
An e-newsletter containing the latest
news from college wrestling in the EIWA!
The EIWA will be publishing a weekly e-newsletter whenever there is breaking news relevant to college wrestling from one or more of its 17 member schools. Be sure to sign up (opt-in) for the newsletter HERE to receive more newsletters like this one!
You may cancel at any time!