Army Wrestling Update - Journeyman Classic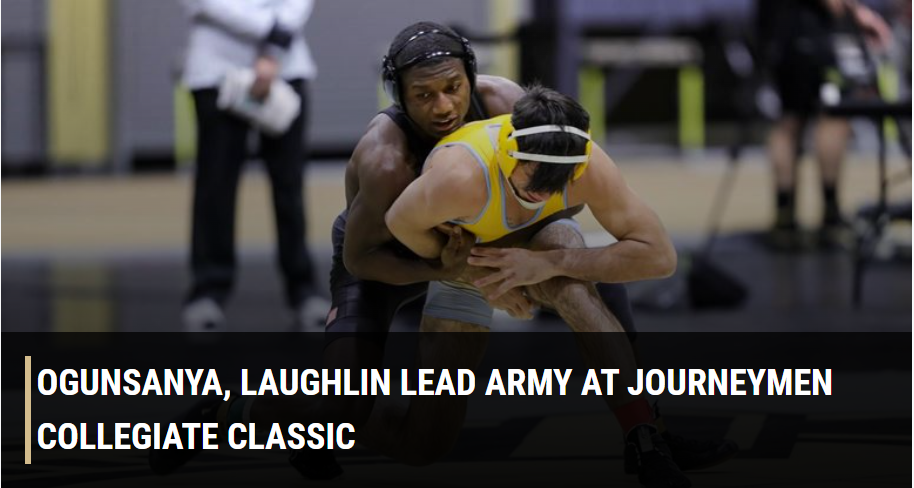 West Point, NY | November 15, 2021
Army Wrestling Nation!
It's the Journey that makes us Men
Happy to report some great results for the Spooky Nook on Sunday at the Journeymen Collegiate Classic.
This event is split into small pools that foster competition, with the goal of all athletes getting 3-4 bouts. 18 teams attended.
Full brackets here - TournaFlex - Flexible Tournament Software
Army West Point story here - Ogunsanya, Laughlin Lead Army at Journeymen Collegiate Classic
10 Black Knights won their pools, with 2 of them capturing "the hammer" for winning the A pool. Luckily for us, Colonel Cook was the OR for this event and he let me know that the award was actually a mallet. We try to get it right here at West Point.
Here is a weight by weight breakdown- again with the format of highlighting champs or one performance per class
125 Congrats to Jake Staud for picking up his first collegiate win
133 Dom Carone captured his pool by going 3-0
141 Thomas Deck loves to put points on the board, and he did so in all his bouts to win his pool. He is fun to watch.
149 PJ Ogunsanya made a statement, dominating a solid field of athletes and creating separation from his opponents in all his bouts. He looked every bit the part of a top ranked guy in the nation on Sunday. Our depth was once again on display as Matt Williams took his pool as well.
157 Nate Lukez dips his hands in concrete right after weigh ins. He and freshman Kenny Kiser both won their pools.
165 Breaking news- Dalton Harkins is pretty good on top. This guy is going to get better every time he steps on the mat. He looked great capturing his first collegiate title.
174 The real sledge "hammer" is Dom Falcone. Another plebe, another first time college champ! Of note- he is undefeated since I gave him the nickname "Meatball"
184 Brad Laughlin announced his presence on the national scene. Good to see his work in the room translate to some big time results.  184lbers nationwide: take note!
197 JT Brown beat a ranked guy to make the finals of the main event before coming up a little short. We know there is more to come from JT.
HWT- Some good results from our quartet of Large Mammals, highlighted by Eric Keossian capturing the title in his pool with 3 dominant wins.
Tidbits
I'd also be remiss if I didn't mention Caden Blust, who was a late addition to the lineup and came away with his first college victory.
Corey Shie had a pin over a national qualifier and looked good in his return at 141
Clay Fielden had a solid day at 165, including grinding out a 2-1 decision to take 3rd.
Not much rest for us as we travel to State College to take on the Nittany Lions on Thursday and will also be back in the Lancaster area to coach a contingent of guys at the Shorty Hitchcock Open on Saturday.  Lots of bus miles in November for sure.  But hey, it beats doing yard work or shoveling snow!
Thanks for all your support and we hope to see you at an event soon.
Scott Green