Army Wrestling Update - Penn State and Shorty Hitchock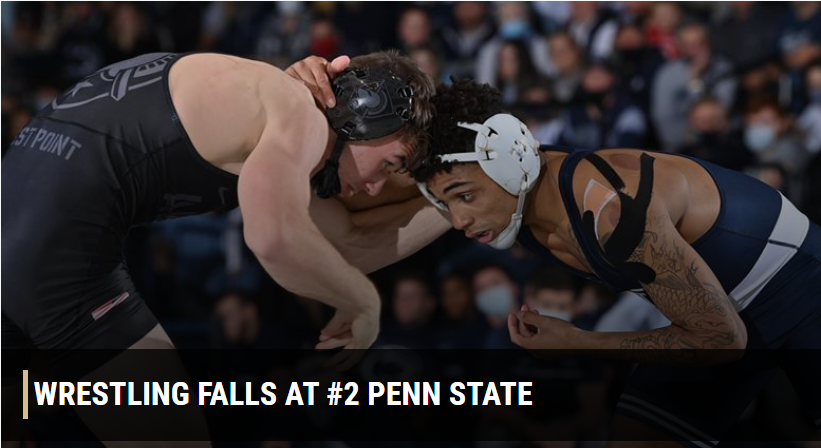 West Point, NY | November 22, 2021
Hey BK fans:
So we opened up our dual schedule this week with a trip to Happy Valley and followed that up by entering some guys in the Shorty Hitchcock in Millersville on Saturday.  It is November, so while we were hoping for some slightly different outcomes in some of the bouts, we are grateful for the opportunity to be traveling with the team and getting some fall mat time.
Penn State is a juggernaut to be sure, but we are happy to take that match, and proud of the way our guys performed. Markus bounced back nicely at 157, getting a bonus victory against a talented kid who just won the spot. Corey Shie also got some offense going at 141 and helped us in the win column. the other 8 bouts did not favor us. We looked good and competitive in some. Others we looked overmatched. We have some work to do, but a match against a top ranked team always gives the guys and our staff some perspective and is a nice measuring stick moving forward.
Army West Point release: Army-Penn State
Winning a team title at an open tourney isn't really a thing, but I choose to pretend that it is. I'm pleased to report that we won our second open tourney. This was a good mix of full DI teams, redshirts and under division teams and our guys looked strong in these brackets.
Shorty Hitchcock brackets and results: FLOARENA
Here we go, with one performance per weight being highlighted.
125- no entry.
133- Richie Treanor dropped his semi bout, but responded very nicely in his 3rd place match. It was as good as he has looked so far this year.
141- Zach Keal pinned a highly touted Maryland redshirt early and really didn't get the benefit of competent officiating in a close semi loss.  We continue to have great depth at this weight as all of our entries performed very well.
149- Matt Williams racked up a 6-1 record on the day. One thing I stress with guys is the concept that how you wrestle after a tough loss matters the most.  Character shows up in the wrestle backs. Matt embodies this so far this year.
157- Nate Lukez reached the finals with some quality wins. His pace continues to break his opponents.
165- Dalton got the Shorty Robe by winning all his bouts. He continues to dominate on the mat, and we are catching glimpses of his emerging offense on his feet. This was a good weight and I don't think he gave up an offensive point.
174- Falcone really makes people mad when he beats them for some reason. He did drop an OT bout that we will want to get back, but he continues to rack up W's.
184- Sahm made the semis, including a nice W over a Junior Greco World Team member from Cornell. He dropped a tight one there.
197- Godbee continues to improve and rack up wins.  He may be the strongest individual on the team. The opponents face when Thomas first puts his hands on them always makes me smile in the corner.
HWT- A solid 3rd for Keoss, and he looked pretty good doing it. His offense was on point and he scored first in the semis, but then let the match get away from him a little. A great response for 3rd though!
Again, a long but productive day for the guys. It is always fun being in their corner.
We don't get a ton of rest as we leave on Thursday for Iowa. We dual the Cyclones on Saturday Night and then compete in the Harold Nichols Open on Sunday. The plan is to travel with 20 guys. The rest will spend the T-Day break healing up and spending time with their families.
Our schedule is pretty unforgiving, but the goal every week is the get a little bit better, and to correct something in your game that needs improvement. We plan to keep giving the guys the opportunity to do this.
It has been great seeing so many of you on the road supporting our guys and to hear from you after these updates as well. We are building a strong community around our team and it seems appropriate this week in particular to let you know that I am thankful for that, and thankful to be here as well
Enjoy your holiday!