Army Wrestling Update - Lehigh Recap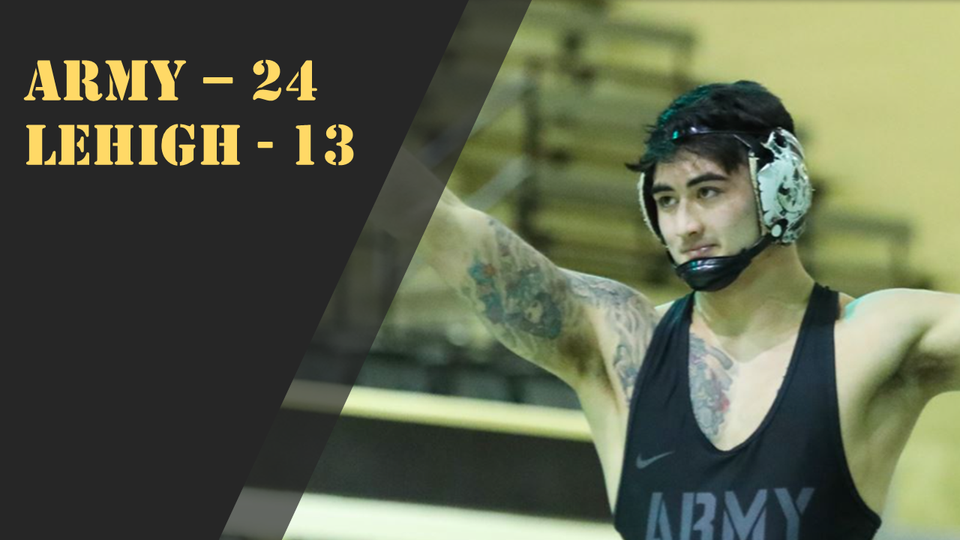 West Point, NY | February 7, 2022
Sunday was a Great Day to Be a Black Knight!
It was bittersweet saying good bye to our Firsties. I am excited to see what the future holds for them. One of the things that drew me back to college coaching, and specifically West Point, was to be a part of a program that places such an emphasis on leadership and character development at a critical stage in young men and women's lives. This group will be missed.
Oh yeah- we also had a wrestling match. And for the first time since 2008- America's Team came out on top over Lehigh!
Wrestling Upsets No. 15 Lehigh on Senior Day - Army West Point (goarmywestpoint.com)
To start- I can confirm the rumor that Coach Ward set a new personal record for most consecutive minutes with a smile on his face yesterday. I have alerted Guinness and Wikipedia and they will update accordingly.
Corey Shie pulled the pin on a grenade of a headlock to swing the momentum at 141 and Markus Hartman sealed the deal with a pin in the final bout, but this was a team effort top to bottom.
We had to show our mettle at 174, 184, 197 and 149 and we did- grinding out some gritty Ws. The theme in all those matches was obvious- put them on their heals and push the pace. It paid off with late takedowns, stall calls and a feeling of general malaise for our worn out opponents. Great wins by Ben, Sahm, JT and Matt in those bouts.
We also stayed tough in the bouts that we lost- competing hard against tough wrestlers and more than holding our own.
Our guys are learning what it means when you Run to the Fight, which we have been doing all year. The results are starting to show up. We have three more opportunities to leave our mark on this season.
Yesterday was the first time we have beaten a ranked opponent in a dual since 2016-17. I do not forecast that long of a drought ever again.
A little housekeeping:
Camps are back!!!
Here is the link to share for the two camps we will be hosting this summer
Army Men's Wrestling (totalcamps.com)
If you are planning on supporting America's Team in Ithaca for the EIWAs, and we hope you are- I am sharing a recent email we got regarding tickets and protocols. See below
Cornell Athletic Tickets - 2022 EIWA Championship All-Session Package (universitytickets.com)
If you have questions you can reach out to me, or contact them directly.
Thanks for all your support, and all your well wishes both digitally and in person. Hoping to see many of you in Annapolis on the 18th!