EIWA Newsletter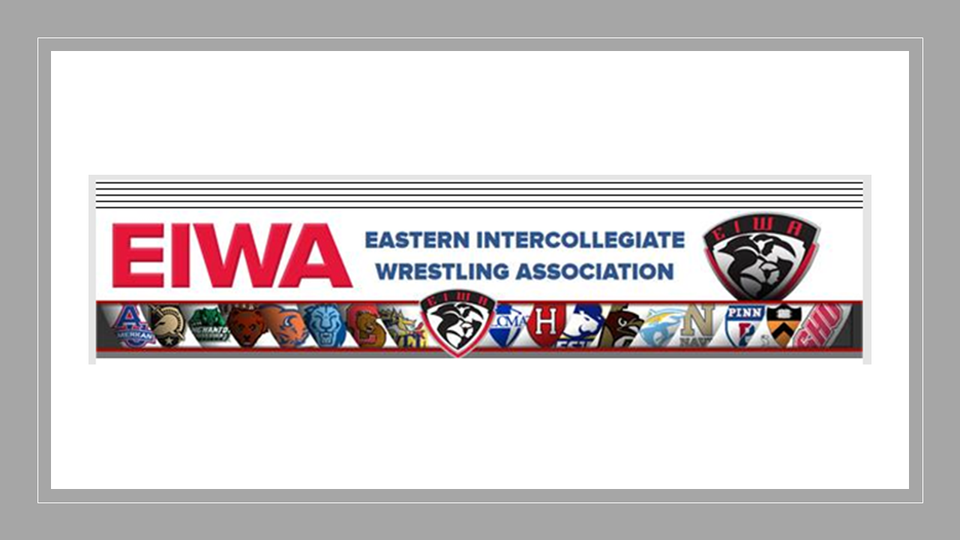 Thought we would share this resource to keep all you wrestling junkies up to date on our conference happenings.
You can signup for the EIWA Newsletter here (it comes out about once/week) or visit the EIWA webpage for newsletters, rankings, schedules and more.
The cover photo from the Newsletter - I couldn't resist because there is no better picture than a Navy wrestler on his back...except for the pin!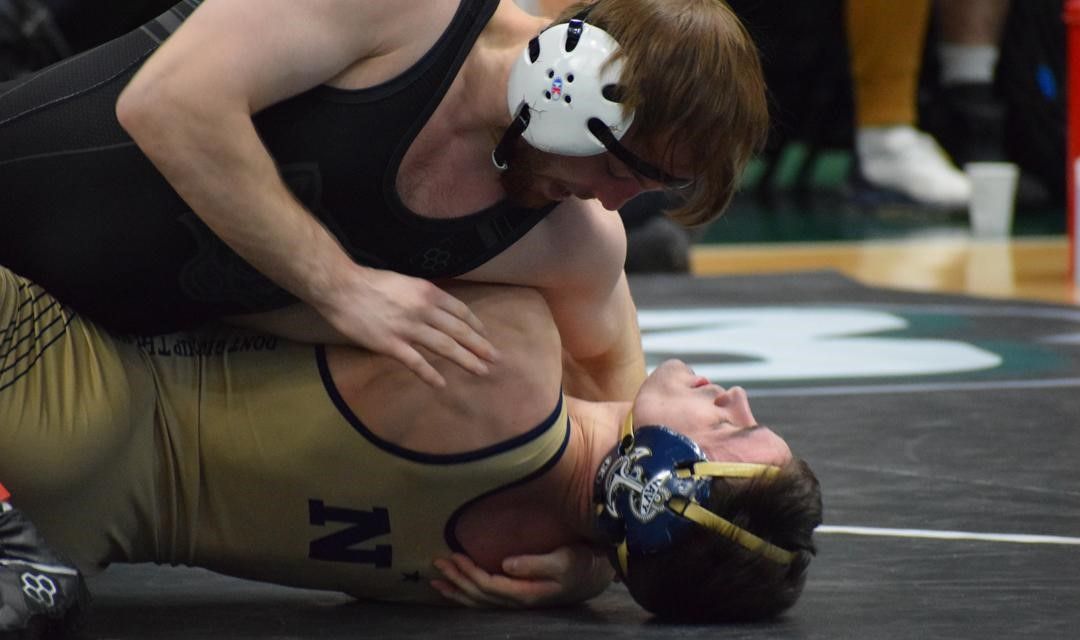 Here is just a snippet from this week's newsletter on the Army win over Bucknell
Army Digs Deep to Score Victory over Bucknell
"Time to dig deep."
That was the tweet from the Army West Point wrestling account on Saturday after three consecutive wins from Bucknell, including two on late third period scores, knotted the dual at 12 with three matches to go.
Coming up at 141 was Bucknell's #20 Darren Miller against Thomas Deck of the Black Knights in a pivotal match.
Miller led with a minute and a half to go when Deck turned the tables, putting Miller on his back and earning a 7-2 decision.
"Both of those guys are really tough," said Army West Point head coach Kevin Ward. "Thomas wrestles a creative, open style and does a lot of things you can't teach, which is part of what makes him so good. He's always a threat to score. He's having a really good year as a true sophomore who didn't wrestle any matches last year. He created some action late in the match and came up with a really good win."
That gave Army the lead at 15-12, with the 149 bout next. Usually that would mean returning EIWA champion PJ Ogunsanya for the Black Knights, but since he is injured, Matthew Williams made his dual meet debut.
"Matt has quietly put together a good season, but he's behind our best wrestler in the lineup," Ward said. "He was the loudest one on the bench cheering earlier in the dual, but when he got on the mat, he looked calm and composed. He wrestled a smart bout. I'm super pumped and proud of him - getting a huge win against a good opponent in his first-ever dual meet."
With a six-point cushion and only the 157-pound match left, #29 Markus Hartman took the mat against Bucknell's Nick Delp.
"If you want someone on the mat in that situation, it's a senior leader," Ward said. "Markus is dangerous and he had an early takedown and just started rolling. He did a really good job closing it out for us."
After Hartman's 8-2 triumph, the final score was Army West Point 21 and Bucknell 12.
The exciting EIWA contest featured mini-winning streaks and a number of matches that went down to the wire.
Zach Hartman of Bucknell opened with a 6-2 decision over Dalton Harkins in a meeting of ranked competitors at 165 pounds.
Ben Pasiuk responded at 174, putting the Black Knights ahead on the scoreboard for the first time, 6-3, after recording a pin.
"Ben wrestled at the Journeymen tournament, got hurt, and didn't wrestle again until early January," Ward said. "If you've had the chance to watch him compete, every match he gets better. He's not happy winning by one or two points - he's looking for bonus points. It's exciting for us. His potential is through the roof. We like the way he's trending."
Like Pasiuk, 184 pounder Brad Laughlin missed significant time this season, getting into the lineup for the first time since December 10, according to Ward. His opponent, Logan Deacetis tied things up with about 30 seconds to go, but Laughlin struck back, earning a takedown with short time remaining to win 5-3 and extend his team's advantage to 9-3.
"Brad looked a little rusty and he could've let that match get away from him," Ward said. "Momentum was going in the other direction, but when it got tough, he stayed composed. He needed a takedown to win and he finished clean and rode him out. That was big."
Then, #26 JT Brown made it 12-3 in favor of AWP with a 6-1 decision at 197.
"JT's a senior who has been around the block," Ward said. "He's super consistent. He's always been a better wrestler in late January and February than earlier in the year. We're excited about the way he's been competing. He's getting better every time out there."
Bucknell came into the dual on a seven-match winning streak and the Bison began their comeback to try to make it eight in a row.
Both Luke Niemeyer (heavyweight) and Brandon Seidman (125) notched takedowns in the last 30 seconds to win one-point matches against Army West Point's Brandon Phillips and Ryan Chauvin, respectively.
That cut the team score to 12-9. After Bucknell's Kurt Phipps prevailed 5-0 at 133 over Dominic Carone, it was 12-12 leaving it up to Deck, Williams and Hartman.
They sealed the first dual win of the campaign for the Black Knights after battling with teams such as Iowa, Penn State, Cornell, Rutgers, Iowa State, and Pittsburgh in a brutal schedule.
"The most important thing was that our guys made no excuses and found a way to win," Ward said. "We were on the road, without two of our senior captains against a 10-2 team that always wrestles us hard. We've had 19 different guys wrestle for us in duals this year. There's been a lot of adversity. Next man up was never more true than now. It's easy to find excuses if you want to, but our guys didn't. It was a back and forth, tough dual meet and I'm so proud of our guys because when it got dicey, they stepped it up and got it done."
Ward said it doesn't get less challenging from this point forward, but he believes his group is ready.
"I've told the team that things aren't getting easier, but things don't need to get easier when you get tougher," Ward said. "Embrace doing things the hard way and we're capable of winning those gritty matches. It's a tough road and that's the way we like it."
Like at 12-12 against the Bison, it's time to dig deep.