EIWA Team by Team Season Preview Part One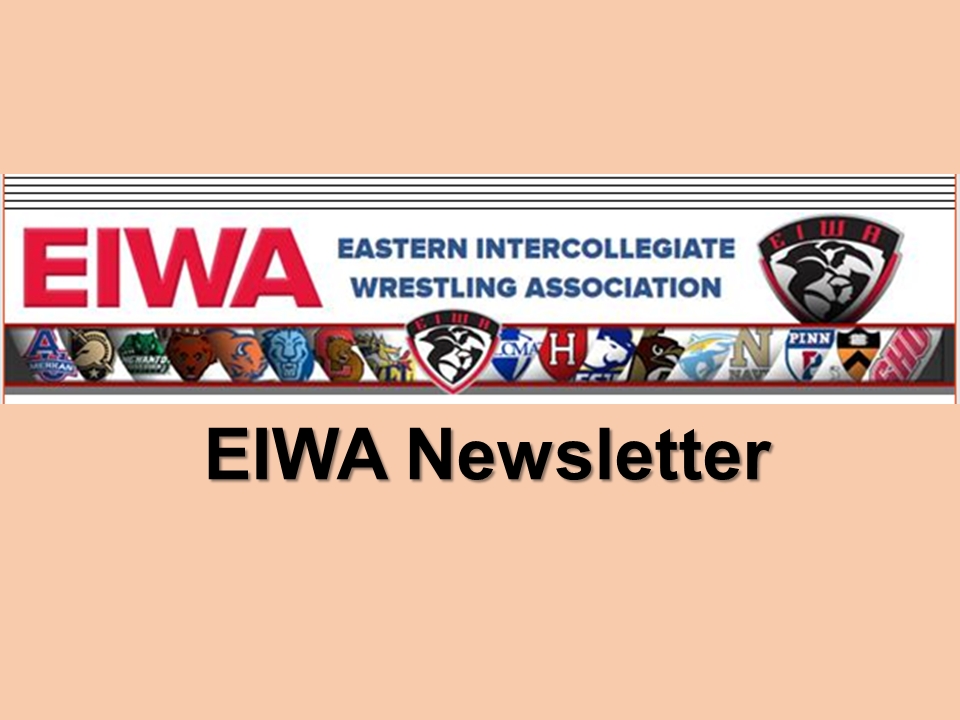 Story by AustinSommer
EIWA Sports Information Dir.
American University
Projected Line-Up
125 Jack Maida (#29) or Shamil Kalmatov
133 Maximilian Leete or Raymond Lopez
141 Ethan Szerencsits
149 Antonio Segura or Devon Capato
157 Jack Nies or Ryan Zimmerman
165 Caleb Campos or Breon Phifer
174 Lucas White
184 Connor Bourne
197 Carsten Rawls or Liam Volk-Klos
HWT Will Jarrell or Isaac Righter
Overview
If this line-up looks familiar, that's because it is pretty much the line-up they rolled out at EIWA's last year. The Eagles had a historic turnaround season last year. In 2022, they finished with a 1-12 dual meet record while going winless against conference opponents in five matches. Last season's record was 8-12 with an arguably tougher schedule than years prior. Their conference record was 3-5 a season ago as well. It's not hard to see the improvement in just one year. Coach Borrelli and staff will continue turn this program around.
New Faces
This is one of the few programs where the coaching staff remains unchanged. Consistency will take this team a long way, which can be used as a positive recruiting tactic. Knowing the coaches are there for the long haul makes most athletes sleep easier at night. We mentioned the line-up is identical to last year – but there is one major change. Jack Maida was the lone qualifier for American last year. This was at 133lbs, however. This year, we'll see him down at 125lbs. With a new weight class, we may see a slow start until he adjusts properly – as is the case whenever a wrestler drops down a weight class.
Key Dates
Nov. 2 –Maryland (#22) comes into town for the season opener. It will be a good test to see where they stand.
Jan. 12 & 14 – A road trip to California to wrestle Cal Poly, CSU Bakersfield, Central Michigan, and Campbell (#28). American defeated the latter three teams a season ago – all by 1 point. Expect similar results.
Feb. 4 – Newly added program Morgan State comes to town. It's always exciting to see a new program.
Find the entire schedule here: https://aueagles.com/sports/wrestling/schedule/2023-24
Army West Point
Projected Line-Up
125 Ethan Berginc (#25)
133 Ryan Franco
141 Julian Sanchez
149 Trae McDaniel (#30)
157 Nate Lukez (#23)
165 Dalton Harkins (#33)
174 Ben Pasiuk (#11)
184 Daniel Lawrence
197 Wolfgang Frable
HWT Austin Kohlhofer
Overview
The Black Knights, also known as "America's Team," have five individually ranked wrestlers, led by three returning NCAA Qualifiers in Berginc, Lukez, and Pasiuk. Pasiuk has been to nationals three times already, with a top-16 finish as his best performance in 2021. With this projected line-up, we will see 8 returning starters for Army. Last year's squad finished in 6th place at EIWAs thanks to 8 place finishers. This team has the tools to improve on that finish and sneak its way into the top 5.
New Faces
One new face you will see is Steve Bleise on the coaching staff. He was a 3X NCAA Qualifier for Minnesota and Norther Illinois across three weight classes (141, 149, and 157). He joined the staff in August, and has been excellent ever since. This team has a ton of young talent that will probably see some mat time. Coach Scott Green has been a force on the recruiting trail in between settling food debates on social media and foraging for mushrooms. All kidding aside, this program is here to stay.
With assistant Jimmy Overhiser recently accepting a job at Tarleton State in Texas, there is a new opening on staff that Coach Ward will need to fill. Be on the lookout for a new addition to staff in a few weeks or so once applications are in and interviews are had.
Key Dates
Nov. 11 – Opening the season at Campbell (#28). A great early match up to potentially jump into the top 30 with a win.
Nov. 19 – Black Knight Invite includes Big 10 teams like Penn State, Rutgers, and Michigan State; plus Northern Colorado and others.
Feb. 17 – They square off against rival Navy in Annapolis late in the season.
Find the entire schedule here: https://goarmywestpoint.com/sports/wrestling/schedule/2023-24
Binghamton University
Projected Line-Up
125 Carson Wagner
133 Micah Roes
141 Nate Lucier
149 Michael Zarif
157 Carter Baer
165 Brevin Cassella (#22)
174 Will Ebert
184 Jacob Nolan (#13)
197 Dimitri Gamkrelidze
HWT Cory Day (#25)
Overview
The Bearcats return all three EIWA place winners, whom were all NCAA qualifiers last season. It's no surprise these three guys are in the rankings with Cassella (#22), Nolan (#13) and Day (#25). This squad has a nice mix of upper classmen along with young talent. Expect the upper classmen to help lead this team and improve on their 11th place finish a season ago at EIWAs, which they feel was an under achievement.
New Faces
Many new faces will be seen on the coaching staff. Recent graduate, Anthony Sobotker, was named to the staff and will give a helping hand to the lightweights. He was exciting to watch with some flashes of exciting upper body techniques.
Lou DePrez was one of Binghamton's best to ever represent the Bearcats on the mat. He'll now be on staff as an assistant. He was added to staff the second semester last season after an injury ended his final year of eligibility. The athletes looked up to him as a competitor, and teammate. Expect the same, just in an elevated role.
Coach Borshoff is currently in the process of hiring a new assistant coach. Expect more on this once the hire is officially made. This assistant will replace Fred Garcia – who has taken a role at Cleveland State.
The line-up above only shows one new face. Cason Wagner at 125lbs will be a true freshman. He's a Northampton, PA grad who placed 4 times at the state championships. He's a scrappy wrestler who will have success as he grows into the weight.
Key Dates
Nov.17 – Taking on #6 NC State in a tough early season matchup.
Dec. 1-2 – Cliff Keen Las Vegas Invite is a togh in-season tournament. Success here lands you in the rankings.
Feb. 16 – Travel to #19 Northwestern for a dual
Find the entire schedule here: https://bubearcats.com/sports/wrestling/schedule
Brown University
Projected Line-Up
125 Jared Brunner or Shane Hanson-Ashworth
133 Hunter Adrian
141 Ian Oswalt
149 Sam McMonagle
157 Blake Saito
165 Keegan Rothrock or Mason Spears
174 Harrison Trahan or Jonathan Conrad
184 James Araneo or Nick Olivieri
197 Lear Quinton or Araneo / Olivieri
HWT Alex Semenenko
Overview
The Bears return one place finisher from a season ago, where Hunter Adrian was 8th at EIWAs. Coach Jordan Leen took over right before the season began last year, and we can only assume the team will improve in due time. People across the nation have the same feeling, as Leen was a homerun hire. A lot of the names in the line-up above were starters a season ago. With some new faces on staff, the sky is the limit for this team.
New Faces
Ty Walz was named as an assistant in August of 2023. He spent nearly a decade at Virginia Tech as an athlete and coach. He was a multiple time All-American and won numerous medals at the world level. He's a fantastic addition to the upper weights in Providence.
Micky Phillippi was named to the staff as well. He spent his wrestling career at Pitt, where he was coached by Leen. Although he never made the podium, he had a very successful collegiate career barely missing the podium on four occasions. Phillippi will add coaching depth to the lower weights.
Gage Curry is also making the move from Pitt to Brown, along with Leen and Phillippi. Curry was a 4X NCAA Qualifier between American and Pitt. He spent his career at 125lbs, which will give the smaller guys in the room another great coach and mentor.
Key Dates
Nov. 5 – Opening up at the Clarion Open.
Nov. 19 – Black Knight Invite includes Big 10 teams like Penn State, Rutgers, and Michigan State; plus Northern Colorado and others.
Dec. 22 – The first annual Sheridan Invitational hosted by Lehigh.
Jan. 1 – Southern Scuffle. Earning a place finisher here will be a great jumpstart into the second semester.
Find the entire schedule here: https://brownbears.com/sports/wrestling/schedule
Bucknell University
Projected Line-Up
125 Ethan Lebin
133 Kurt Phipps (#21)
141 Dylan Chappell (#24)
149 Braden Bower
157 Nick Delp
165 Chase Barlow
174 Noah Mulvaney
184 Logan Deacetis (#24)
197 Nolan Springer
HWT Dorian Crosby (#26)
Overview
The 2023 EIWA 9th place finishers are looking to improve last year's performance. The Bison will have a solid line up with a mix of newcomers and experienced veterans. Four of the team's five conference place finishers return to the team while all three NCAA qualifiers will be back again. Phipps will look to improve on his tough 7th place finish from EIWAs a season ago. Dorian Crosby earned 6th place – good enough to earn a spot at NCAAs. The wrestler who surprised many people at conferences, Dylan Chappell, will look to be down at his natural weight this season. He took the conference by storm when he burst onto the scene with a runner-up finish at 149lbs after beginning the season down at 133lbs. He will replace multiple time EIWA place finisher, Darren Miller, who graduated after an outstanding career at Bucknell.
New Faces
The Bison will have two new coaches this season. Longtime assistant, Kevin LeValley, has moved onto coaching on the club scene at PINnacle in Minnesota. Eric Morrill has gone onto California Baptist on the west coast.
Donny Ooton is a familiar face, as he was with the program in 2009 and 2010. He will step in as an assistant after spending time as an MMA fighter and coaching at both the club and scholastic level in the state of Virginia. The Bucknell program is glad to have him back.
Secondly, Thomas Flitz is coming into the conference after spending some time on staff at The University of Virginia. Before this, he was a three-time NCAA qualifier out of the SoCon powerhouse, Appalachian State. Wrestling at 174lbs during his career, he will be a great addition in the upper middle weights.
With the projected line-up, we may only see one new face – meaning they have not seen any collegiate action yet. Ethan Lebin is slated to be the starter at 125lbs. After attending high school at Hempfield Area, he ended his PIAA career with two individual state medals while placing at Powerade twice. Having success in the WPIAL is a good indicator he will have success at the college level.
Key Dates
Nov. 10 – Traveling to take on Oklahoma State (#12)
Nov.16 – Minnesota (#16) will take on Bucknell in the Bison's home opener.
Dec. 3 – Bucknell will travel to square off against Wisconsin (#25).
Find the entire schedule here: https://bucknellbison.com/sports/wrestling/schedule/2023-24
+++++++++++++++++++++++++++++++++++++++++++++++++++++++++
Wrestling fans,
If you have questions pertaining to the EIWA and/or have requests for stories in future newsletters, contact us at: EIWAwrestling@gmail.com
Thank you,
Gene M. Nighman
Executive Director
Forward this email to wrestling fan and friends!
NEW EIWA Newsletter
an e-newsletter containing the latest
news from college wrestling in the EIWA!
The EIWA will be publishing a weekly e-newsletter whenever there is breaking news relevant to college wrestling from one or more of its 17 member schools. Be sure to sign up (opt-in) for the newsletter HERE to receive more newsletters like this one!
You may cancel at any time!
Reprinted with permission.