Go Green's Notes from Post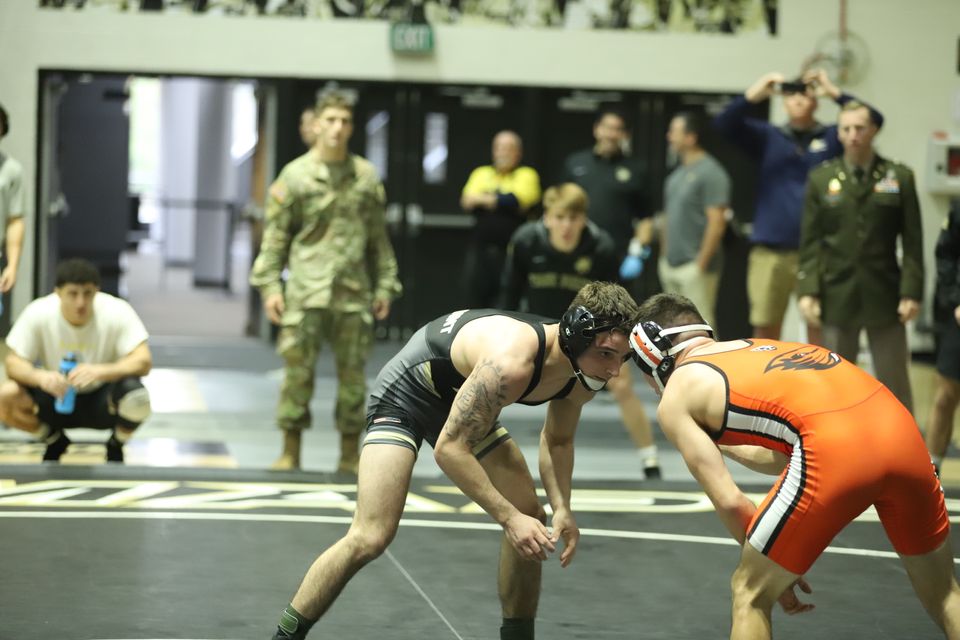 America's Team was back on the mat yesterday, and the results were worth the wait.
My favorite part of the newsletter is talking about our guys and their results.  It is that time of year.  I won't get to everyone, but will do my best to highlight some of the better performances from Sunday.
We had a great day!
125
Ethan Berginc announced his presence with authority, going 3-0 and knocking off a returning All American in the process.  This is the first of many big wins for Ethan- be sure you tell all your wrestling friends to watch his ascent through the rankings,
Charlie Farmer also had two dominant victories to start his career.
133
Rich Treanor had a big pin over a ranked opponent to highlight a nice performance.
141
Julian Sanchez looked solid in his debut with a couple of Ws and a tight, slightly controversial OT loss.
149
Logan Brown, Matt Williams and Thomas Deck all had similar results in the scramble format.  This weight looks pretty wide open right now.
157
Nate Lukez went 3-0, attacking with his signature relentless pressure.
165
Dalton Harkins had a nice OT win over a nationally ranked wrestler.
174
Ben Pasiuk was unbeaten and untested in his season debut.
184
Sahm lost a close bout to a top 10 opponent and rebounded with a solid win.
197
Kyle Swartz, Danny Lawrence, Wolfgang Frable, Eli Pack and Tom Godbee went a combined 10-1 for the day.
285
Kade Carlson went unbeaten, including an OT win.
Odds and Ends
-We went 6-1 in overtime bouts
- We beat Oregon State starters (from their dual with Lehigh) at 125, 133, 149, 165, 174 and lost in OT at 141.
- 31 different Black Knights won matches
Check out some YouTube
Here is a great wrap up from MorWrestling.  Please follow him and subscribe for great NY based content.
What's Next?
America's Team heads to the Lehigh Valley for a double dip with Nebraska and Sacred Heart on Saturday and a round robin event on Sunday.
Here is the info (2nd and 3rd graphic down)
TOURNAMENTS | Journeymen (journeymenwrestling.com)
Podcast Central
Guys- Coach Ward did a podcast.  Listen here and subscribe to Black Knight Nation
https://www.youtube.com/watch?v=P4ptXz-dYcA&fbclid=IwAR0_6jEAgGatniZQDWbUdVFBLTUJZ81V9ISdkcHR34pAjy_16r8e6ShtZoE
If you missed my podcast last week, or if you love listening to me talk so much you want to listen again.
Army West Point's Scott Green on Culture, Coaching Successes & Goals | Podcast Episodes | Baschamania
Iowa Tix
We have sold less than 1k tickets for this meet.  Are we a wrestling school?  Help us show that we are.  Get your tickets today, and send this link to every wrestling fan you know!!
Army Online Ticket Office | Online Ticket Office | Event/Item List for "Wrestling" (evenue.net)
Iowa Social
We will host a social for Old Grads and supporters for this dual.  More info coming soon.
Penn Tickets
We hope to see you in Philly for our dual with Penn on the eve of the Army Navy football game.  Tickets to the wrestling dual are located here.
Penn Athletics | Online Ticket Office | Event Groups | Online Ticket Office | Event/Item List for "Army Supporter Seating" (evenue.net)
NCAA Tickets
Please come program build with us.  Request tickets from us and maybe you can travel to Tulsa with America's Team.
NCAA Ticket Request (army-wrestling-insiders.ghost.io)
I'll wrap up by sharing with you a message I try to deliver to every prospective Black Knight that comes to campus.
A lot of schools talk about exclusivity.  They talk about alumni network.  They talk about being a part of something bigger than yourself.  But remember this.
There are 14 Big Ten schools. Math seems to be an issue for them.
There are 8 Ivy League schools.
But there is only one West Point.
Thanks for being a part of it.