Ethan Berginc - EIWA Wrestler of the Week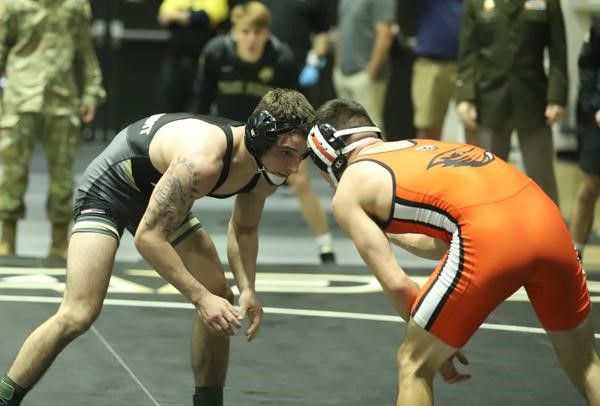 West Point, NY | November 8, 2022
[Excerpt with permission from the 11/8/22 EIWA Newsletter]
           EIWA Wrestler of the Week
Army West Point's Ethan Berginc, Fr. 125lbs
Army Freshman Ethan Berginc has been named the EIWA Wrestler of the Week following a 3-0 performance at the Black Knight Scramble. His wins included a 3-1 sudden victory over No. 7 Brandon Kaylor a 2022 All-American for Oregon State.
Ethan Berginc decision 3-1 sudden victory over #7 Brandon Kaylor of Oregon State.
Ethan Berginc major decision 18-4 over Griffin Gonzales of Queens.
Ethan Berginc decision 8-2 over Robbie Sagaris of LIU.
Army coach Kevin Ward on Ethan Berginc, "It's been a lot of fun watching Ethan train and develop and happy for him to experience a big-time win on his first day of college wrestling. He is a true believer and an incredibly competitive young man. We are excited to continue to watch him develop."
***  ***  ***  ***                                                                                    ***  ***  *** ***
To subscribe to the EIWA Newsletter:
The EIWA will be publishing a weekly e-newsletter whenever there is breaking news relevant to college wrestling from one or more of its 17 member schools. Be sure to sign up (opt-in) for the newsletter HERE to receive more newsletters like this one!
You may cancel at any time!