Ogunsanya, Altomer and Treanor Lead the WPWC at the 2022 USMC US Open in Las Vegas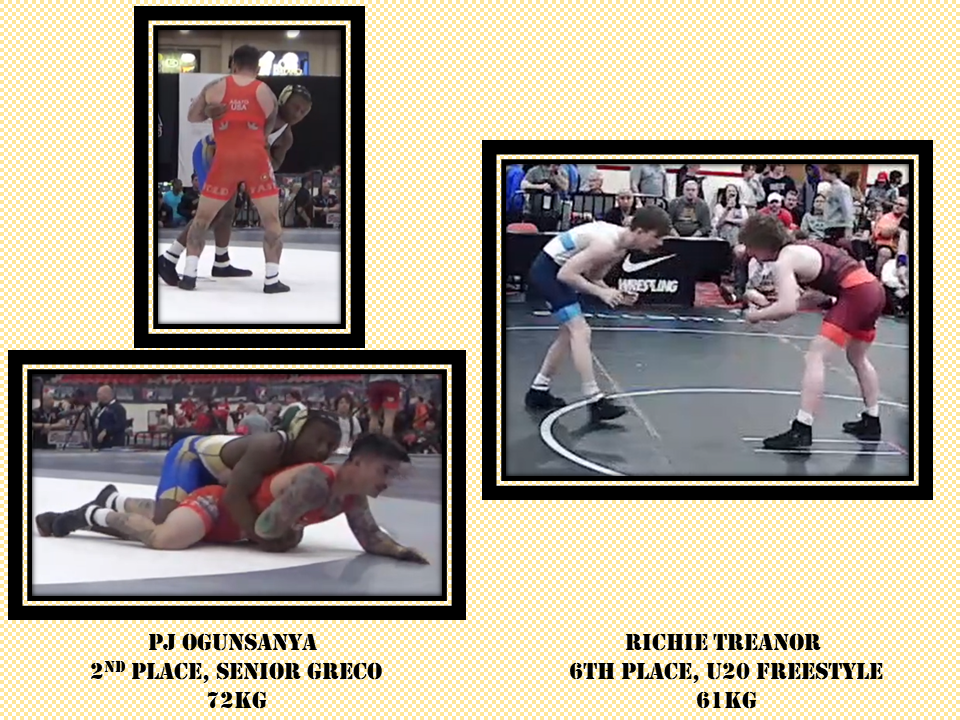 Las Vegas, NV | May 1, 2022
PJ Ogunsanya lead our Senior athletes with a 2nd place finish at the 2022 USMC US Open Wrestling Championships in Las Vegas, NV. Competing in Greco at 72kg in the Senior Division, Ogunsanya's winning ways came to an end in an exciting finals match against the 2020 Senior Nationals Champion Benji Peak.  The 2nd place finish qualifies PJ for the 2022 World Team Trials  as the top seven place-winners at Senior Nationals have the opportunity to compete to represent the United States at the World Championships this Fall in Belgrade, Serbia.  Ogunsanya's finish is the second best for the WPWC in Senior Nationals history, and only surpassed by Jon Anderson - a 2006 Army Wrestler, 2019 US Senior Open champion and 2015 PanAM Games Champion.  
In the U20 (Under 20) National Championships, Richie Treanor (Freestyle, 61kg)   wrestled to 6th place with a 6-3 record and also qualified for the U20 World Team Trials.
Mikey Altomer (Greco, 82kg), competing in the U20 National Championships, dominated with his ferocious headlock to go a perfect 3-0 and capture the Gold. As the U20 Champion, Mikey earns the bid to the 2022 Pan-American Games in Oaxtepec, Mexico.
WPWC Wrestling Results:
Senior Greco
PJ Ogunsanya, 72kg
WIN Corey Asada (All Navy), 8-0
WIN Michael Hooker (Army WCAP), 6-1
WIN Brody Olson (NMU), 9-0
WIN Ryan Wheeler (Colorado Mesa), 10-1
LOSS Benji Peak (Sunkist Kids), 9-6
Senior Freestyle
Paul Robinson, 130kg
LOSS Kaleb Reeves (Eastern Iowa Wrestling), 10-2
LOSS Jonovan Smith (California), 0-0
U20 Greco
Mikey Altomer, 82kg
WIN Joseph Jens (Cardinal Wrestling), 9-0
WIN Jackson Rosado (Mat Sense Wrestling), 13.4
WIN Adrian Artsisheuskly (Elite Wrestling), 10-2
U20 Freestyle
Richie Treanor, 61kg
WIN Carter Schmidt (Big Game WC), 10-0
WIN Zack Witmer (NYC RTC), 11-6
LOSS Nico Provo (NYAC), 10-0
WIN Jager Eisch (Gopher WC), 10-0
WIN Ethan Fernandez (Spartan Wrestling), 8-3
WIN Cael Hughes (Cowboy WC), 10-0
WIN Carter Bailey (Lehigh Valley WC), 13-12
LOSS Garrett Grice (MWC Wrestling Academy), 15-5
LOSS Grigor Cholakyan (Sunkist Kids), 15-4
Zach Keal, 70kg
WIN Tyler Okada (California), 11-1
LOSS Blaine Brenner (Gopher WC), 10-0
WIN Mason Shrader (Chippewa Wrestling), 12-6
WIN Bryce Dauphin (Wyoming WC), 7-7
LOSS Michael Kilic (Woodward Academy), 10-0